Right-to-Work Study Shows Missouri Workers Lose Billions
A new report was just released by Dr. Kelsay of the University of Missouri-Kansas City Economics Department, which provides hard evidence of the traumatic effect "Right-to-Work" will have on Missouri and warns of severe economic losses and higher poverty rates in Missouri.
The report demonstrates that Missouri would lose between $4.8 billion and $6.28 billion annually in wages and tax revenue by becoming a "Right-to-Work" state.
The bottom line: If Missouri became a "Right-to-Work" state, middle class workers would see their incomes shrink, and state, local and county governments would lose millions in tax revenue due to these lower wages. It is clear that "Right-to-Work" is WRONG for Missouri families.
You can read the Study by clicking here or you may download the 32 page Study which is available in our Download Section by clicking here.
Laclede Gas Company Closing KC Call Center
In 2013 Missouri Gas Energy (MGE) was acquired by Laclede Gas Company. Currently, there are 225 Employees who are working in the Kansas City Call Center located at 3420 Broadway. The International Brotherhood of Electrical Workers Local 53 represents approximately 87 of the employees at the KC Call Center and they have a Collective Bargaining Agreement in place with MGE thru April 30, 2014.
IBEW Local 53 has received written notice from Laclede that they intend to eliminate the the KC Call Center and layoff its employees, and outsource the call center work to an unidentified third party. Here is a communication from IBEW Local 53 which outlines the plan that Laclede intends to put into place after April 30, 2014. We invite you to sign the Keep KC Jobs Petition and to LIKE the Keep KC Jobs Page on Facebook.
GKC AFL-CIO Endorses Roxann Thorley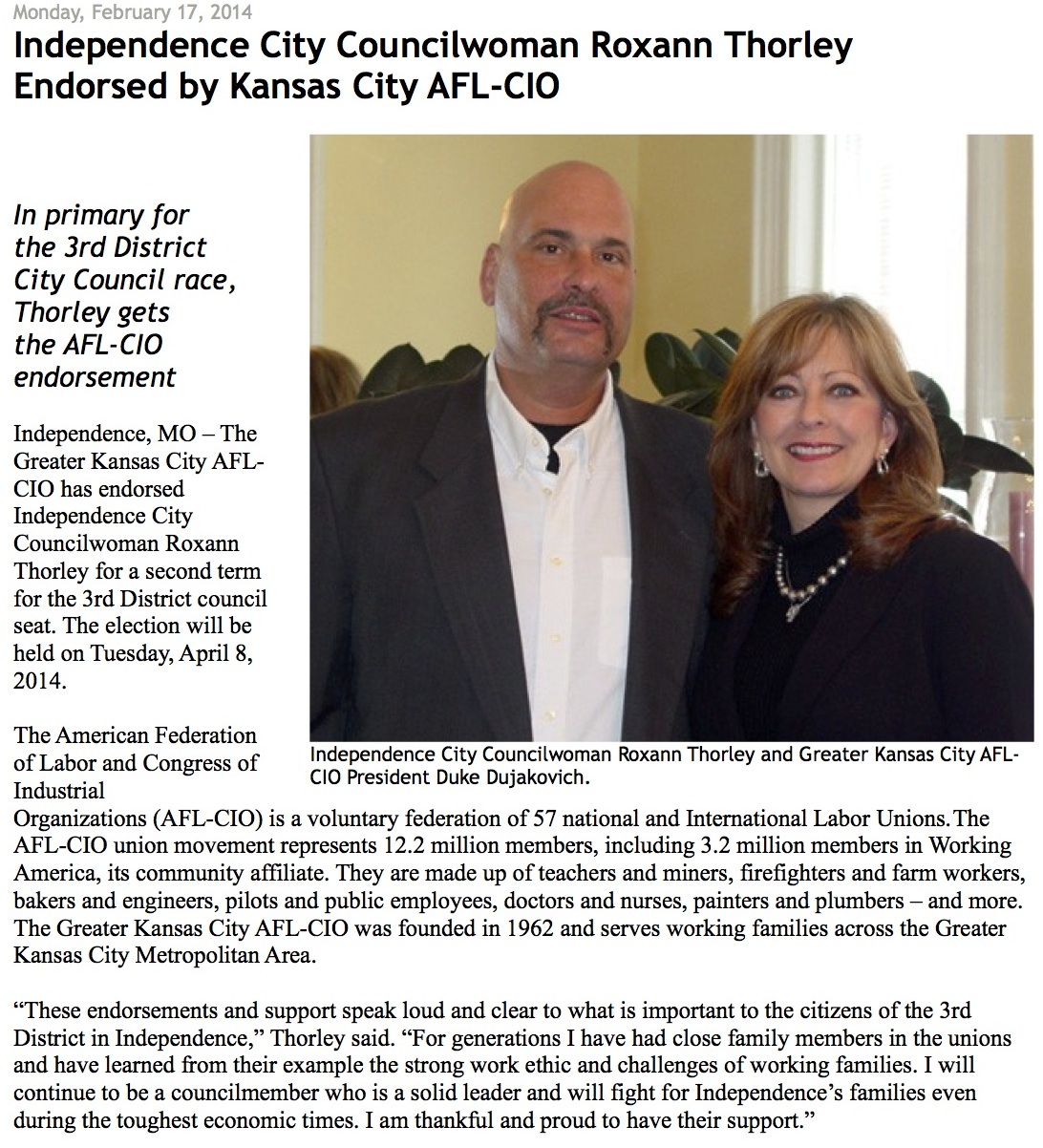 The Greater Kansas City AFL-CIO is happy to announce it has endorsed Roxann Thorley for Independence, 3rd District City Council.
We invite you to visit her website by clicking here and sign up to receive Campaign News.
AFL-CIO Global Organizing
Each of us as Union Members have choices to make each and everyday regarding items that we purchase and where we spend our hard earned Union Wages. This video illustrates several of the organizations that have built factories or outlets here in America that will not allow their employees the basic rights to Collective Bargaining to their American Workforce.
You as a Union Member should show your Solidarity and boycott purchasing goods and services, some of these organizations that are mentioned within this video are Nissan, T-Mobile & IKEA.
The Greater Kansas City AFL-CIO is proud to endorse the United Labor Credit Union as the official lending institution for Organized Labor in the metropolitan area. United Labor Credit Union is located at 6320 Manchester Ave, Suite 41C, on the lower level of the Greater Kansas Firefighters Hall.
United Labor Credit Union offers competitive lending rates, regardless of what you need to purchase. They provide many options to it members including checking, savings etc. ULCU is owned, operated and controlled by its members. We invite you to join ULCU.