2014 George Meany Award
The George Meany Award is a national recognition approved by the AFL-CIO Executive Council. It may be presented to any adult union member who has made a significant contribution to the youth of their community through Scouting. Each AFL-CIO city central labor council and each AFL-CIO state federation is permitted to give one award annually. The emphasis of this award is on the importance of being selective. There is no rule that the quota must be used every year. No honorary recognitions should be made. The purpose of this award is to recognize the recipient's outstanding service to youth through the programs of the Boy Scouts of America.
If you have a member of your Trade Union that you would like to nominate for this award please download the George Meany Award Application by clicking here and returning the application to the Greater Kansas City AFL-CIO in care of Becky Capper becky@kcaflcio.org or via Fax: 816.221.6256.
Cricket Wireless Amphitheater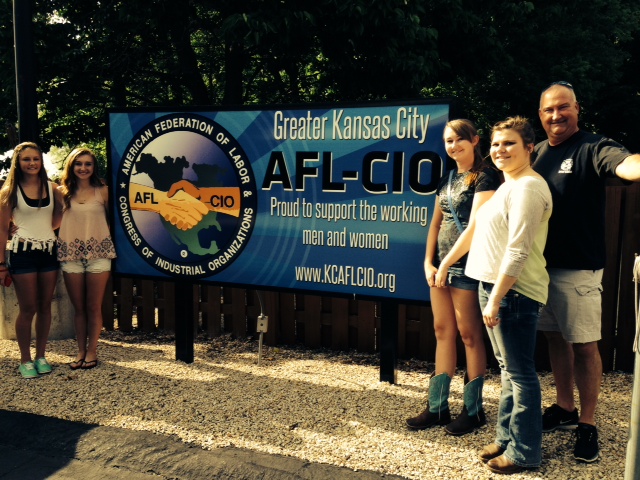 Jeff Hayes, CWA Local 6360 stands next to Greater Kansas City AFL-CIO Banner outside of the Cricket Wireless Amphitheater.
The Greater Kansas City AFL-CIO is proud to endorse the United Labor Credit Union as the official lending institution for Organized Labor in the metropolitan area. United Labor Credit Union is located at 6320 Manchester Ave, Suite 41C, on the lower level of the Greater Kansas Firefighters Hall.
United Labor Credit Union offers competitive lending rates, regardless of what you need to purchase. They provide many options to it members including checking, savings etc. ULCU is owned, operated and controlled by its members. We invite you to join ULCU.