Raytown Walmart Plan
The Greater Kansas City AFL-CIO invites you to attend the Raytown City Council Meeting on Tuesday, May 21, 2013 at 7:00 PM at the Raytown City Hall, located at 10000 E. 59th Street. Please come out and support Local Business Owners and Organized Labor and voice your oposition to Walmart Building Plans. If approved by the Raytown City Council this plan will have a very negative impact on Smal Business within Raytown, MO.
For more information please contact Jim Barnes at 816.446.6542 or visit the Downtown Raytown website.
Genie Forklift Recall Notice
Genie Forklift Recall
Product Notice: 130001
Description: Service and Parking Brakes
Model Affected: GTH-1056
Release Date: April 29, 2013
If you have a machine or machines in your fleet within the serial ranges listed on the attached bulletin please fill out the owner update form attached to the bulletin and return to Genie. You may also visit our website to register your machine.
Don't Let Republicans Cut Your Overtime Pay
A bill pushed by the Republican leadership in the U.S. House that will let employers make you work more for less pay will be up for a vote on Wednesday.
Call Congress today and tell your representative to oppose H.R. 1406: 1.888.866.2561.
The Obama administration said this morning that if the legislation ever reached the White House it would have a date with the president's veto pen. In a statement of administration policy, the Office of Management and Budget said:
This legislation undermines the existing right to hard-earned overtime pay, on which many working families rely to make ends meet, while misrepresenting itself as a workplace flexibility measure that gives power to employees over their own schedules.
If the bill's backers were truthful, the legislation should be called "The Employers Flexibility Act," says Judith Lichtman, senior adviser with the National Partnership for Women & Families.
OSHA Issues New Resource: Combustible Dust Fires
WASHINGTON – The Occupational Safety and Health Administration today published Firefighting Precautions at Facilities with Combustible Dust, a new, informative booklet that outlines safe procedures for emergency responders who may face fires and explosions caused by combustible dust.
"This booklet will keep both emergency response and facility workers safe by giving them a framework to prepare for potential emergencies involving combustible dust," said Assistant Secretary of Labor for Occupational Safety and Health Dr. David Michaels. "Stakeholders that have reviewed the booklet, including fire chiefs and union health and safety representatives, describe it as 'an excellent resource for explaining the hazards associated with combustible dust and outlining the best practices for pre-incident operational preparation by emergency responders.'"
Read the entire Press Release by clicking here or you may download the Firefighting Precautions at Facilities with Combustible Dust Manual by clicking here.
Union Workers Hoist Spire Atop the World Trade Center
Union workers, some of whom are also veterans, are rebuilding the World Trade Center.
This week, they lifted the last piece of spire to a height of 1,776 feet. At 22 tons, the spire will house state-of-the-art lighting and a beacon, which will be visible for miles.
Steve Plate, head of the construction project, said:
"We're back and we're better than ever."
Watch the USA Today video below, check out a slideshow from The Washington Post and watch the AFL-CIO video on union veterans who've been rebuilding at the World Trade Center (below).
Trans-Pacific Partnership
The Trans-Pacific Partnership (TPP) is a massive trade deal currently being negotiated that could threaten our environment, jobs, workers, consumer protection, and more. The TPP is written by the 1% for the 1%. While the public-and even Members of Congress-are shut out of the talks, over 600 corporate lobbyist are actively involved in shaping the agreement.
The TPP could mean:
Lost jobs, by making it easier for corporations to offshore your work.
Lower wages and fewer rights, by speeding up the global race to the bottom since it includes countries with even lower wages and fewer workers rights than China.
The erosion of existing environmental protections, greater pollution from natural gas and other industries, and higher energy prices.
Corporate attacks in private international courts that would gut our consumer, environmental, health and worker protections.
We want a fair deal or no deal!!!
To find out more about this important issues go to:
McCoy Park - Inclusive Play Project
February 14, 2013 - Representatives from Unlimited Play and Natalie Blakemore addressed the Delegates at the Greater Kansas City AFL-CIO Labor Council Meeting regarding their newest Playground Project that will be anchored in McCoy Park, Independence, MO., which is just south of Truman Library.
Unlimited Play has built six (6) of these Unlimited Playgrounds in the St. Louis Metropolitan Area (Zachary's Playground) and at the request of investors from Kansas City, MO the concept is coming to our area. Unlimited Play is seeking Sponsorships, Donoations (Organizations and Individuals) and Volunteers to help them complete this project.
We invite you to watch this short video that shows the Playground Equipment and download their Flier for more details.
| | | |
| --- | --- | --- |
| | | |
| | | |
| | | |
The AFL-CIO is made up of 57 Unions that represent more than 12 million working people in every walk of life.
The Greater Kansas City AFL-CIO is proud to endorse the United Labor Credit Union as the official lending institution for Organized Labor in the metropolitan area. United Labor Credit Union is located at 6320 Manchester Ave, Suite 41C, on the lower level of the Greater Kansas Firefighters Hall.
United Labor Credit Union offers competitive lending rates, regardless of what you need to purchase. They provide many options to it members including checking, savings etc. ULCU is owned, operated and controlled by its members. We invite you to join ULCU.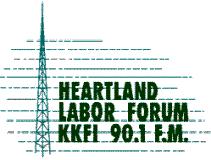 The Institute of Labor Studies and Kansas City, MO radio station KKFI 90.1 FM host a weekly radio program called Heartland Labor Forum. This is the only radio show about the workplace and the labor movement in Kansas City.
The Heartland Labor Forum airs on Thursday evenings 6:00 PM till 7:00 PM and is rebroadcasted on Friday mornings from 5:00 AM till 6:00 AM. Older broadcast are archived at The Institute of Labor Studies website and are available for listening as streaming audio.
About the Greater Kansas City AFL-CIO

The American Federation of Labor and Congress of Industrial Organizations (AFL-CIO) is a voluntary federation of 56 national and international labor unions. The AFL-CIO was created in 1955 by the merger of the AFL and the CIO.

The AFL-CIO union movement represents 12.2 million members, including 3.2 million members in Working America, its community affiliate. We are teachers and miners, firefighters and farm workers, bakers and engineers, pilots and public employees, doctors and nurses, painters and plumbers—and more.

The Greater Kansas City AFL-CIO, born in 1963, serves working families across the Greater Kansas City Metropolitan Area.